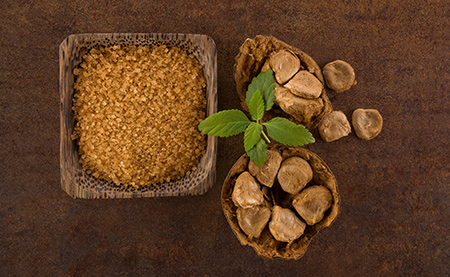 Monk fruit also known as Luo Han Guo ( 羅漢果) and Siraitia Grosvenorii, named after the National Geographic explorer and president that funded the expedition to locate Monk Fruit in the mountainous sub-tropical regions of Southern China in 1930. A small round herbaceous perenial vine the fruit has a recorded use since the 13th century in Eastern medicine as a cold and digestive aid, and is now being used to sweeten your favorite foods and beverages. The fruit extract, or juice is 80-200 times sweeter than sugar and contains zero calories per serving - meaning a very small amount provides pure, natural and healthy sweetness that may have additional health benefits. Available in both conventional and certified organic grades.
Stevia is a naturally occuring herbal sweetener with low calories and is  approximately 200-400 times that of sucrose (table sugar), with only 1/300 times the calories. Stevia derived from the stevia rebaudiana leaf, a native herb plant of Brazil and Paraguay. Stevia is suitable for coffee, tea, soda, juices and other sweet treats and can be packed in small retail sized table packages or used in scaled consumer food production. Available in both conventional and certified organic grades.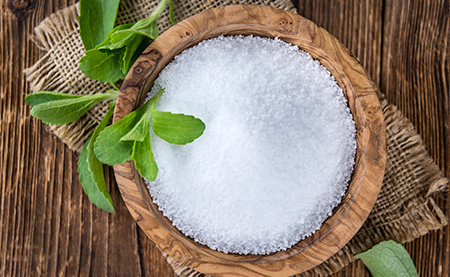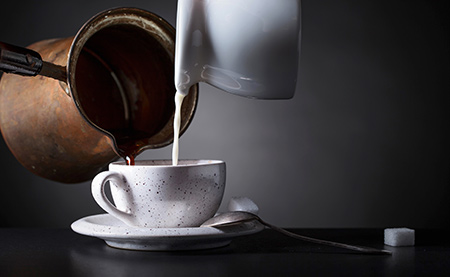 Sucralose is a zero-calorie sugar alternative. It is made from actual sugar in a multi-step chemical process, which involves 3 hydrogen-oxygen groups being replaced with chlorine atoms. It was accidentally discovered in 1976 when a British college scientist misunderstood the testing instructions—thus, creating a highly sweet substance. Sucralose was FDA approved in 15 food categories by 1998 and FDA approved for use as a general-purpose sweetener for foods by 1999. It was also introduced to the US in 1999 and is currently one of the most popular sweeteners in the country. Sucralose is commonly used as a sugar substitute in both cooking and baking. It is also added to thousand of food products worldwide. Because Sucralose is so sweet, you only need a tiny amount, which is why the calories and carbs are negligible to your daily caloric intake. Sucralose is 400-700 times sweeter than sugar and does not have a bitter aftertaste like many of the other popular sweeteners, on the market today. Additionally, sucralose is said to have little or no effect on blood sugar and insulin levels, making it diabetic friendly.
Are you ready to get started?